2012 Supporters List Unveiled
The the BishopFoundation.org Supporters List gives recognition to individuals and organizations that support the charitable mission of Jeremiah Bishop's Alpine Loop Gran Fondo.
In association with the 2012 Alpine Loop Gran Fondo, thirteen riders signed on as Fundraising Participants; raising awareness and collecting contributions; and over 125 individuals, families and organizations made contributions in support of the event's charitable mission.
The 2012 event attracted a total of $7,095 in direct contributions through the combination of fundraising participants' efforts and additional contributions made through cycling participants during the event registration process.
(Soon, a full text list will be added.)
Beneficiaries of the 2012 event include: Prostate Cancer Awareness Project, Harrisonburg Northend Greenway via the Shenandoah Valley Bicycle Coalition, and the Harrisonburg Downtown Renaissance Plan Our Park Fund.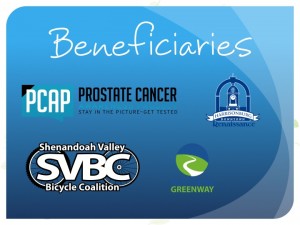 BishopFoundation.org will be updated throughout the coming months as funds are directed to and put to great use by these amazing beneficiaries!
To everyone – volunteers, fundraisers, contributors, sponsors, and cyclists – who came together in support of the charitable mission of the Alpine Loop Gran Fondo, THANK YOU!